Sale!
PRO EDU – Real Estate Photography & Retouching with Barry Mackenzie
Description
PRO EDU – Real Estate Photography & Retouching with Barry Mackenzie
A MASTERCLASS IN WORKFLOW
GO ON LOCATION WITH WORKING PRO, BARRY MACKENZIE TO SHOOT AND RETOUCH A HOME INSIDE AND OUT
Go on location with renowned real estate photographer, Barry Mackenzie as he crafts and prepares images of a home ready to be put on the market. Get insider tips from a working photography pro to capture beautifully composed images allowing potential buyers to visualize a home's layout.
Learn to composite multiple exposures, control light sources to avoid color contamination, and cleanly mask yourself and your gear out of final images.
This tutorial gives you a solid set of real estate photography fundamentals, including lessons on the essentials such as:
Gear
How to Pose and Light Interior and Exterior Photos
Post Production Workflow
Also learn to build an effective portfolio on any budget, and develop a strategy to optimize time on-location and make post-production simple.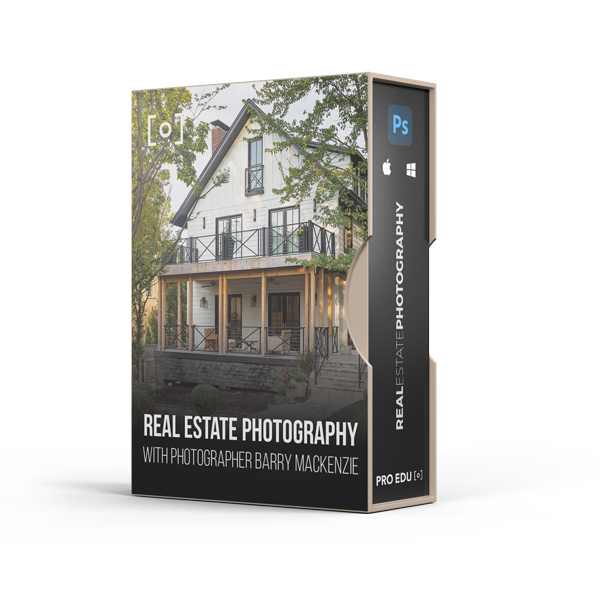 DESIGNED TO MAKE YOU PROFITABLE
In designing this tutorial we knew that we had to bring a LOT to the table for photographers. Not just with quality and lighting, but the speed and workflow. Real Estate Photographers make their revenue and profit based on speed, and we knew that we had to bring a workflow to the table that gave photographers the ability to get into any house and out of any house QUICKLY. This workflow developed by Real Estate Photographer of the year Barry MacKenzie has allowed him to make a very comfortable six figure income shooting 3-4 houses per day, spending minimal time in post and doing this in house. Learn both his lighting and retouching in this complete tutorial.
INCLUDED IN THIS TUTORIAL
DOWNLOAD + STREAM FOR LIFE
SPANISH SUBTITLES Included
With Repeatable Actions
MEET BARRY YOUR INSTRUCTOR
REAL ESTATE & ARCHITECTURE PHOTOGRAPHER
Barry Mackenzie is renowned working pro in both Real Estate and Commercial Architecture Photography. A winner of the 2014 PFRE Photographer of the Year Award, Mackenzie works alongside Tony Roslund as Roslund-Mackenzie, a Platinum Corporate Allied Partner of the American Institute of Architects and nationally recognized member of the Association of Independent Architectural Photographers. He lives in Toronto, Ontario with his wife and two kids.Text