Sale!
PRO EDU – Advanced Skin Workflow
Description
PRO EDU – Advanced Skin Workflow
A CAPTURE ONE PRO AND PHOTOSHOP POST PRODUCTION TUTORIAL – NSFW*
Taught By Playboy Photographer & Retoucher Nino Batista
A CAPTURE 1 PRO MASTERCLASS
THIS TUTORIAL HAS IT ALL
Skin is one of the hardest textures to retouch. We all have it, but it varies greatly in tones, age, luminosity, and color. It's easy to overdue and go too far.
Nino Batista has spent the last decade perfecting a workflow for his clients that show the features of a persons skin to highlight features while conserving truth. He can enhance skin to perfection without making it seem fake. In many cases there is no magic brush and the age of skin smoothing is behind us. He's developed something so much more powerful than that, and it's likely one of the best workflows in the world because his clients like Playboy and FHM demand it.
Get ready for a master class in perfect skin and impeccable detail, every step of the way. Get out the Wacom tablet and fire up your computer for a tutorial focused equally in Capture One Pro 20 and Photoshop CC 2020. Nino Batista will take you step by step in his entire workflow he uses for covers of Playboy magazine.
DISCLAIMER – ADULT CONTENT
We are not able to publicly show free sections of this tutorial on our website due to many restrictions from our advertising partners. Please only purchase this tutorial if you are comfortable with adult related content that you would find in Playboy. If you are unhappy with this tutorial, you have 30 days to exchange it for another tutorial, free of charge.
INCLUDED IN THIS TUTORIAL
SPANISH SUBTITLES Included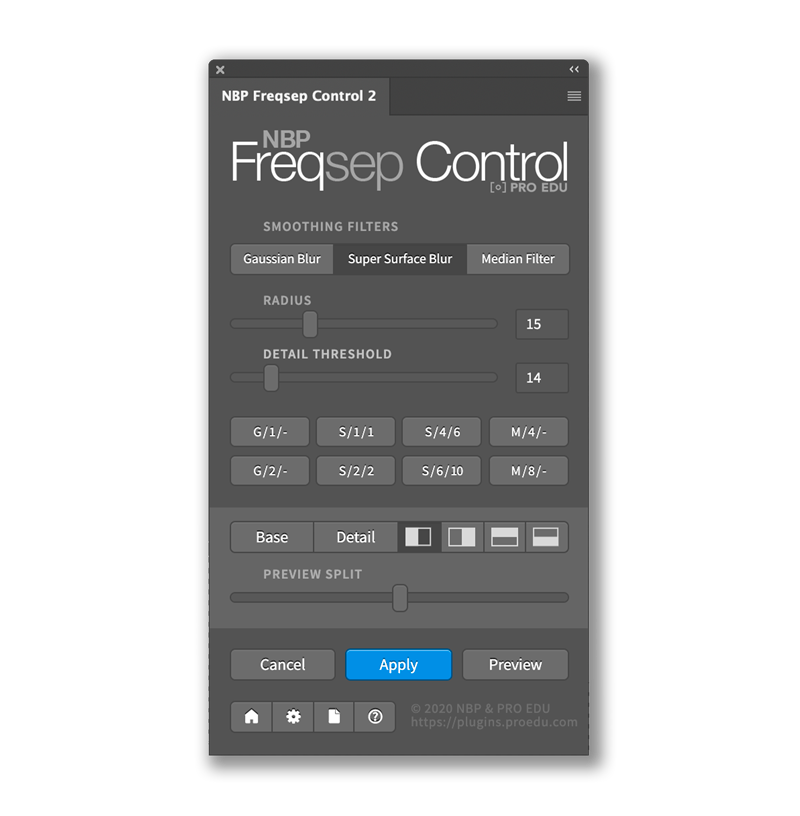 FREE WITH PURCHASE | FREQSEP
If you use frequency separation in your retouching workflow, then you're probably aware – and frustrated by – the somewhat unpredictable results and lack of total control you have while using it. While the method remains a skin retouching staple, the core approach to setting it up in Photoshop hasn't advanced much.
FreqSep Control™ was developed by artists and mathematicians to take frequency separation to a whole new level of speed, accuracy, and ease of use. Gone are the days of fiddling around with settings for 8 or 16bit images, then realizing the amount of gaussian blur you chose was wrong. FreqSep Control™ uses machine learning and advanced algorithms to set up frequency separation faster than traditional Photoshop methods. It preserves more detail, and protects edges against haloing. You can even preview the high and low frequency layers before committing.
Plugin Features
Internal 32 Bit Calculation 8bit, 16bit, 32bit compatible
Multi-Threaded & Vectorized Code
Work With Your Existing FS Workflow
Edge Preservation of low frequency layers
Mac + PC Compatible
Active Previewing
MEET YOUR INSTRUCTOR NINO BATISTA
Ron "Nino" Batista is a model photographer in the United States. His work is regularly seen in the largest publications in the world, including many international editions of Playboy, FHM and more. He is regarded as the premier model photography and retouching educator based in the United States.
Nino has established himself as one of the strongest and affluent teachers of Capture One Pro in the world traveling and hosting workshops, giving one-on-one mentorship and teaching to thousands at workshops and clinics.
Hi! 👋🏼,
For the better part of the last decade, I've been obsessed with improving my retouching. I've sought out mentors, other retouchers, established teachers, and I've watched thousands of hours of tutorials.
I was determined to learn from the best and create the best work I was capable of.
I failed a LOT. And that's okay. Failure is part of the process. It's helped me get to where I am today.
I'm excited to share an advanced set of tools and ideas that I use in post-production to perfect skin.
Not because I want to create something that isn't real, but because my clients expect it.
My clients expect high-level retouching, and in order to hit that mark for them, I've built a consistent workflow.
I'm going to share the entire workflow with you. Everything. I am even giving you RAW files from Playboy cover shoots so you can follow along. And I've partnered with the best creators of photography education to illustrate my process.
I believe this is the best workflow for retouching skin using my favorite tools, Capture 1 Pro and Photoshop. I've even created an innovative plugin called FreqSep, and it's included in this tutorial for Free.
This plugin uses advanced algorithms to create tones and textures that Photoshop alone cannot. Why? Because I'm obsessed with every last detail. I'm obsessed with getting the look that I want.
I cannot wait to see you in the tutorial and to answer your questions in the Facebook group. Download the tutorial and let's start this process together!
Much Love,
Nino Batista